Fashing the EPS12E with the breadboard adapter
In a previous post, we saw how to flash an ESP-01.
Today, I want to flash an ESP-12E with a breadboard adapter.
Adapter
We need an adapter, because the pin wholes of the ESP-12E are not spaced enough to be directly plugged on a breadboard.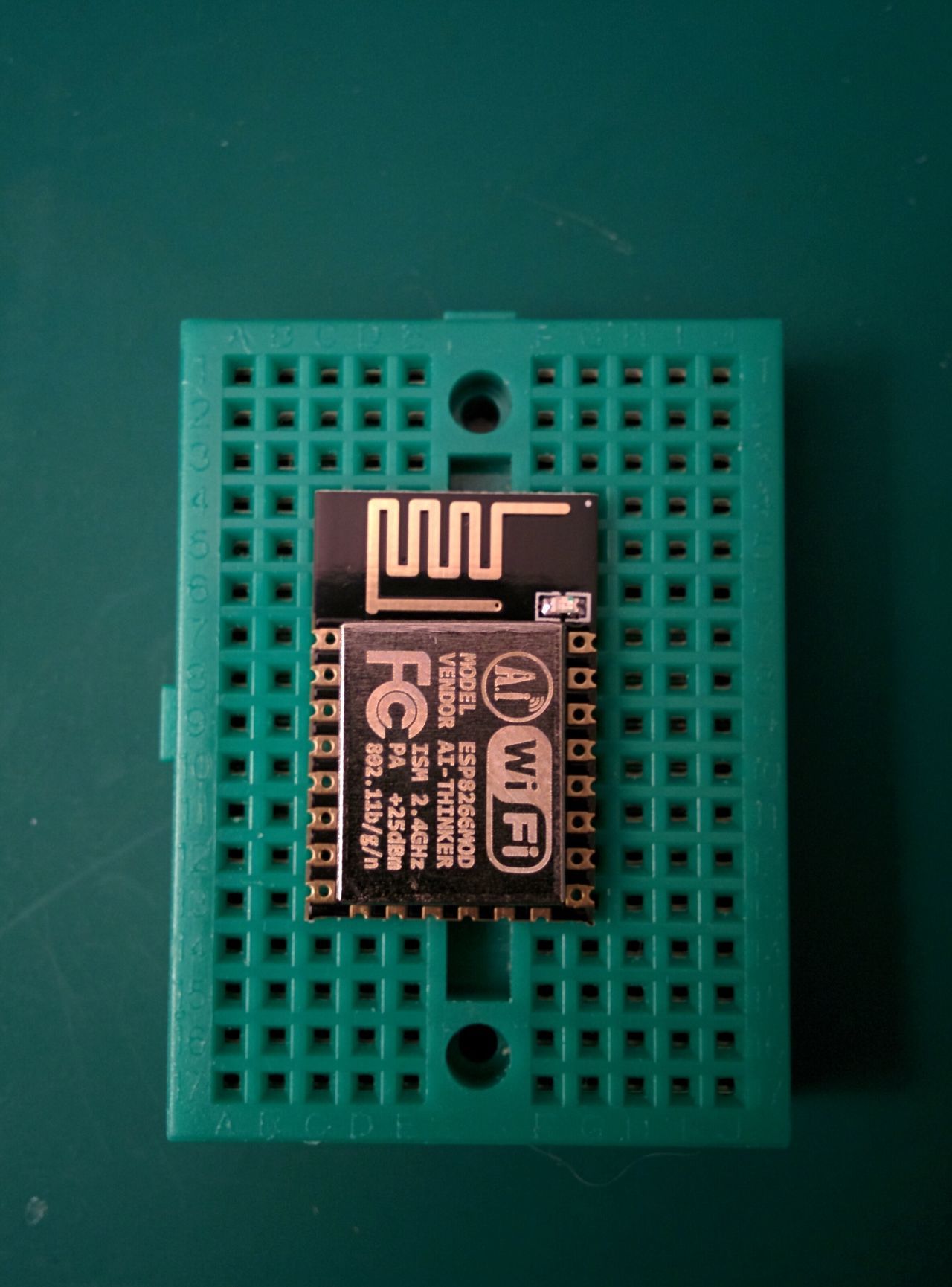 Some folks solder a wire on each ESP-12E pin, but I think it's easier to just use some adapter.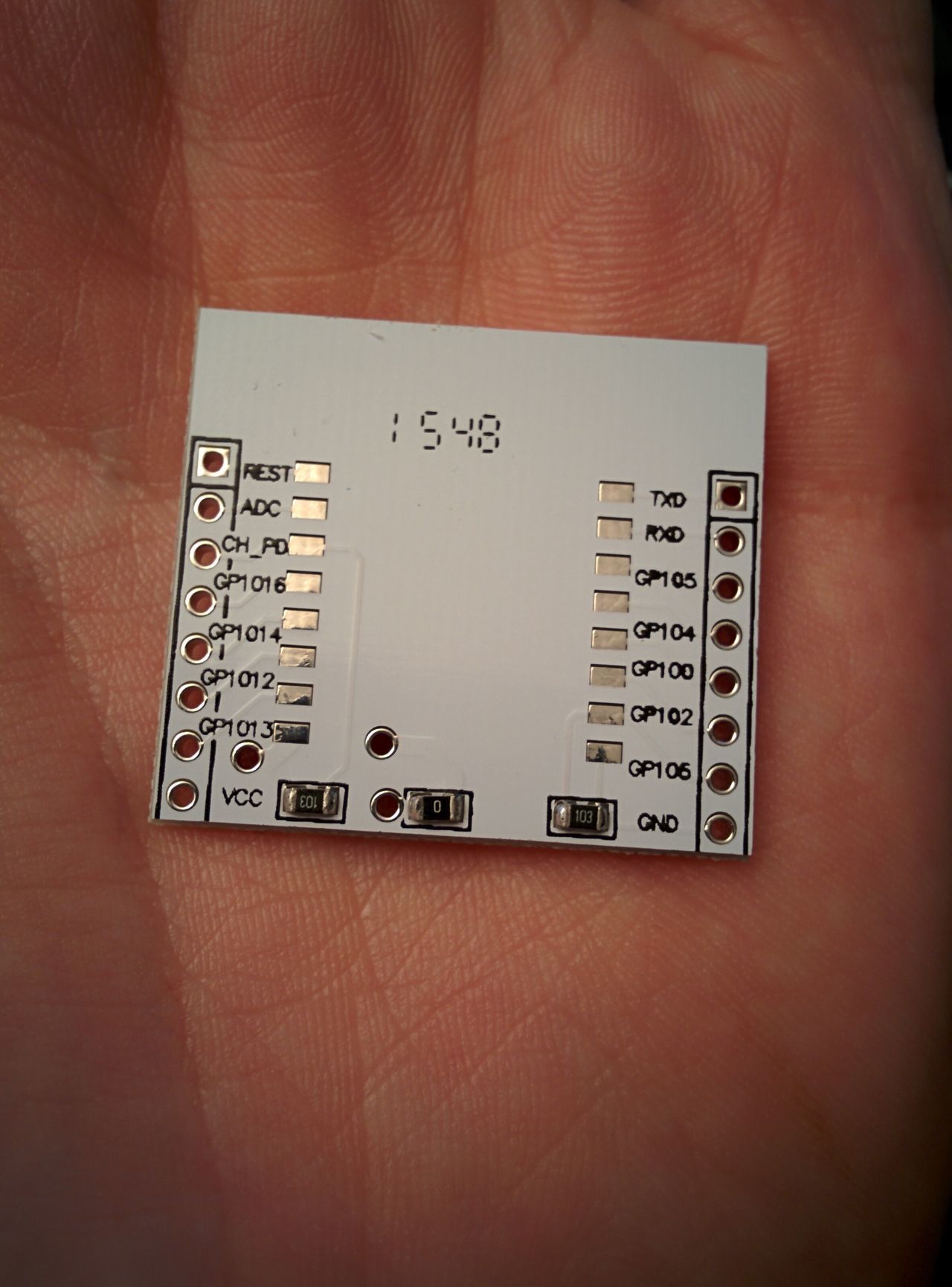 If you look closely, you will see some resistors on the adapter.
Please note that the GPIO05 on the bottom/right of this adapter is in reality the GPIO015. I will by better adapter next time !
As the ESP-01, some pins have to be LOW or HIGH depending on the state of the ESP8266.
CH_PD: HIGH
GPIO 0: High in normal mode, low on flash mode
GPIO 2: High[1]
GPIO 15: Low
The resistors have a value of 1kΩ, and set GPIO15 to Low, and CH_PD to High[2].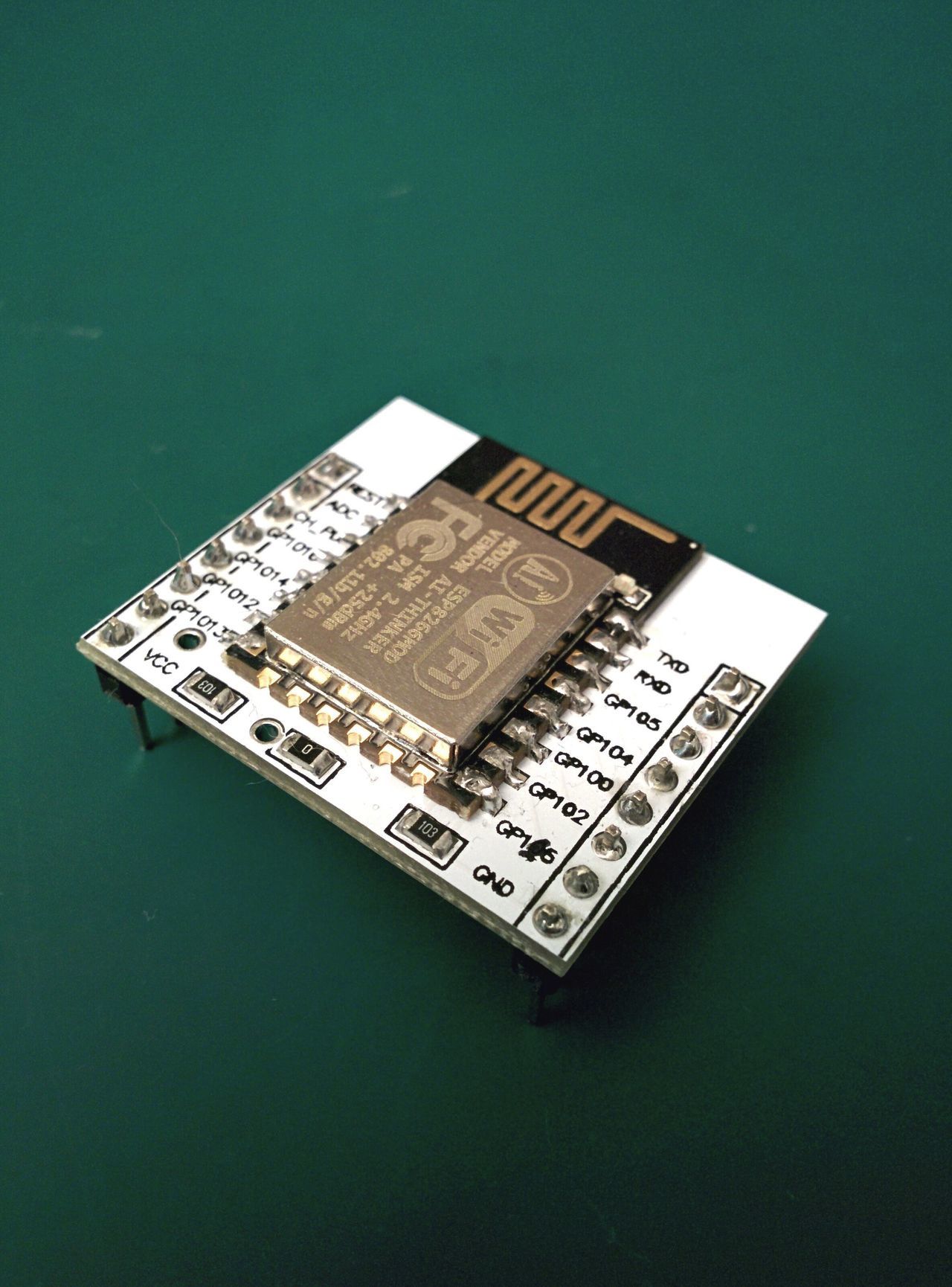 So, after soldering the ESP to the adapter, all that I had to do was:
Connect a button between the reset pin and the ground, with a pull-up resistor;
Connect a button between the GPIO0 and the ground, to switch between normal mode and flash mode.
Connect GPIO2 to VCC through a resistor ?[1:1]
Perfboard modification
I modified the perfboard card that I use to flash an ESP-01.
For some reasons, it didn't seems to work the first time, so I draw the schematic to check the circuit.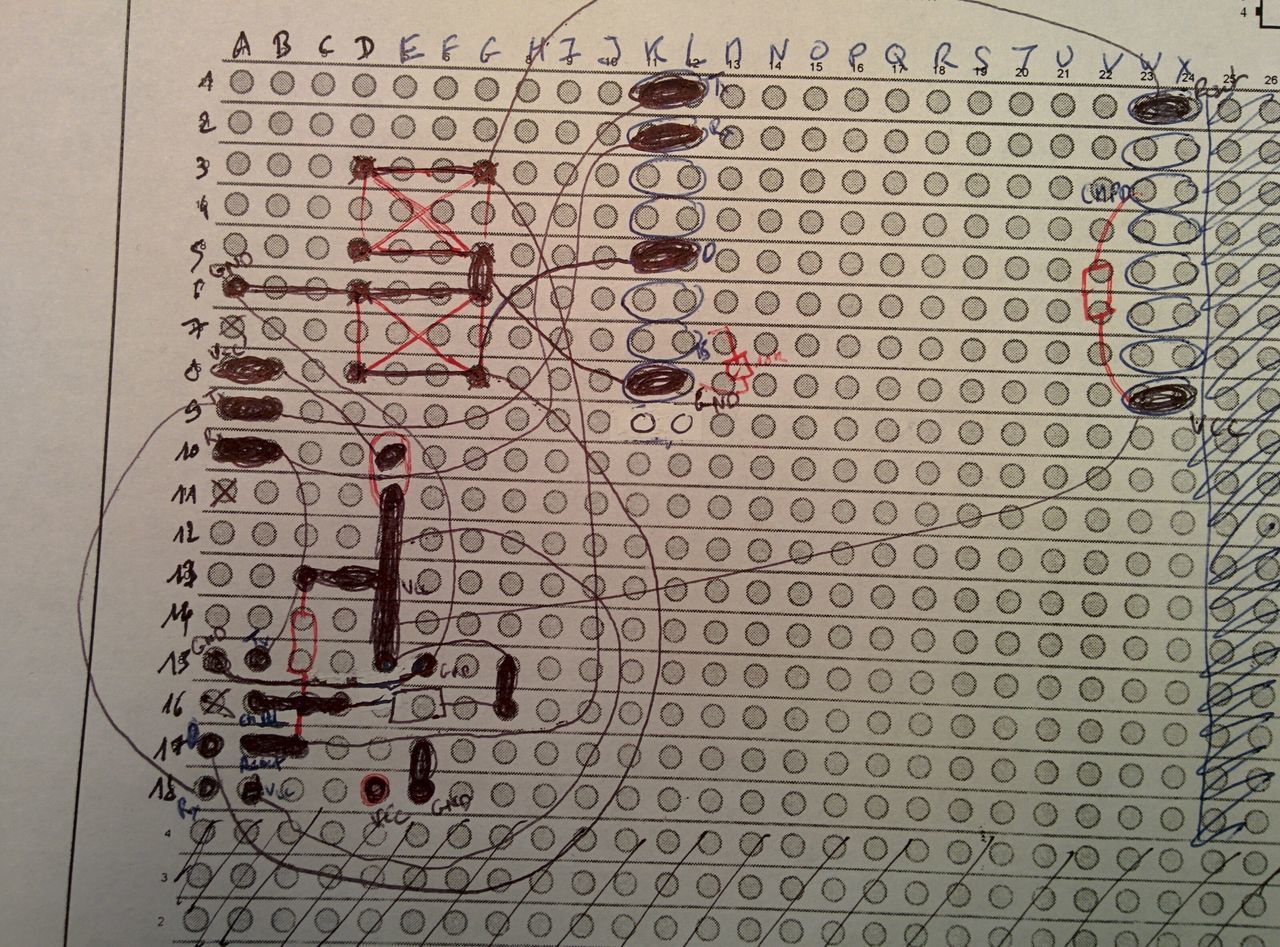 And it was OK (but awful, right ?). On the second try, it was working pretty well (bad connection maybe ? Or GPIO2 ?[1:2]).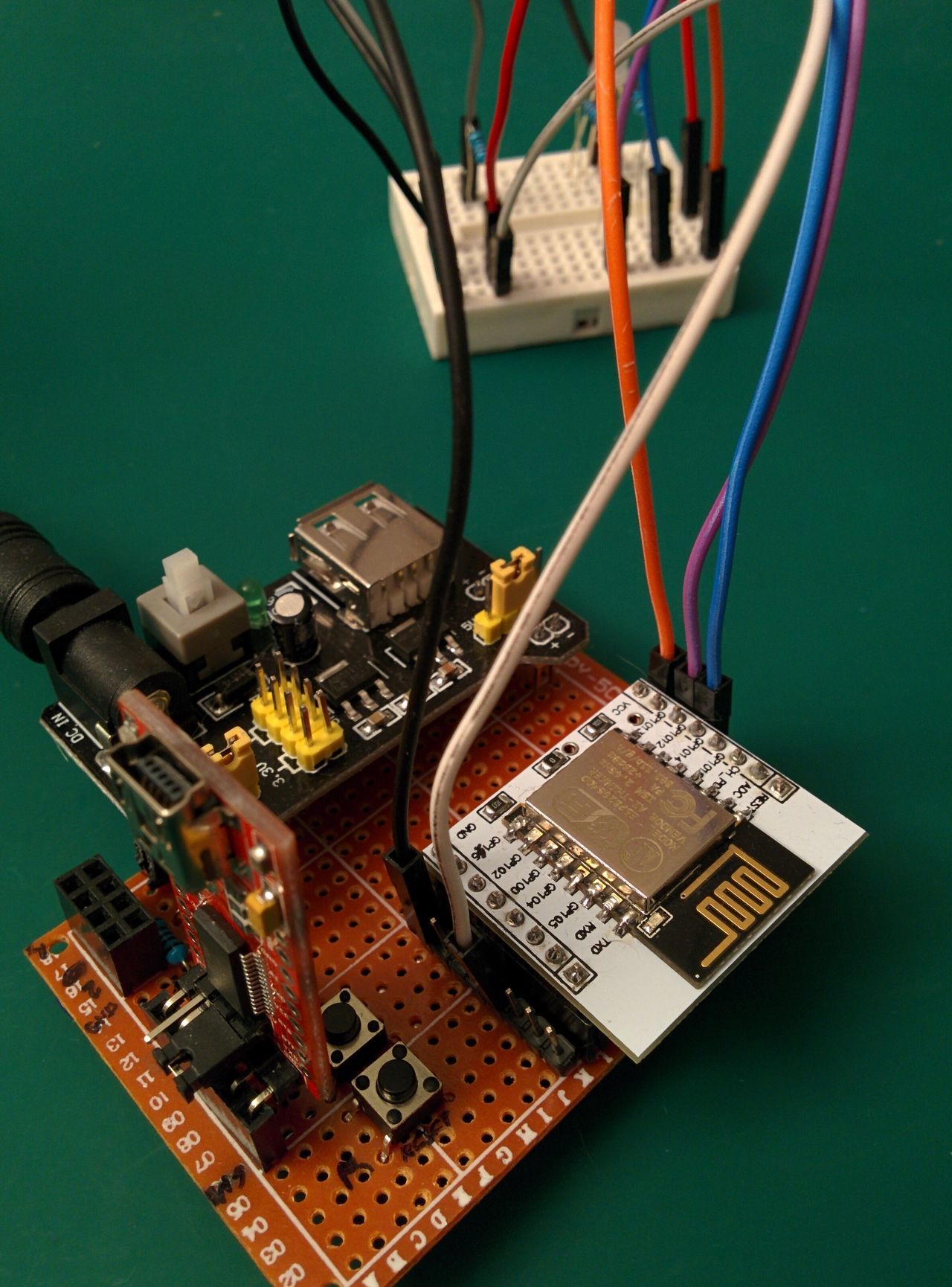 I launched a Putty terminal on the COM port, on 9600 bauds, and pressed the reset button, and type "AT+GMR" + Enter key...
> AT+GMR

AT version:0.40.0.0(Aug  8 2015 14:45:58)
SDK version:1.3.0
Ai-Thinker Technology Co.,Ltd.
Build:1.3.0.2 Sep 11 2015 11:48:04
OK

Hurrah!
Flash
If you want to flash the Expressif firmware, you can download it on the ai-thinker blog.
You can also use the NodeMCU firmware.
For flashing my ESP-12E, I used the NodeMCU Flasher. I will try esptool.py another time...
As for flashing the ESP-01:
Select the firmware in NodeMCU flasher, on adress 0x00000
Press and hold RESET and GPIO0 buttons
Click on the "Flash" button
Release RESET button
When the progress bar begins to fill, release the GPIO0 button
And wait the end of the flashing process.
Next step
Now that I flashed an ESP-12E without all the dev kit around it, I will try to deploy my freezer door project on it.
Maybe later, I will also try to avoid pushing GPIO0 and RESET buttons, using some other signals provided by the RS232/USB adapter.
---
In reality, when I first put GPIO2 to High, the board did not respond anymore. So I let it float. But after reading some blogs, the GPIO2 has to be linked to VCC through 1kΩ resistor. ↩︎ ↩︎ ↩︎

There is also a 0-resistor, and some connectors under the adapter, but I don't know yet the goal of them. ↩︎
Subscribe to IoT Experiments
Get the latest posts delivered right to your inbox